source: https://www.scmp.com/news/china/article/3122212/conspiracy-theories-fracture-chinese-dissident-community-abroad-find
Owen Churchill in United States
Published: 5:36am, 19 Feb, 2021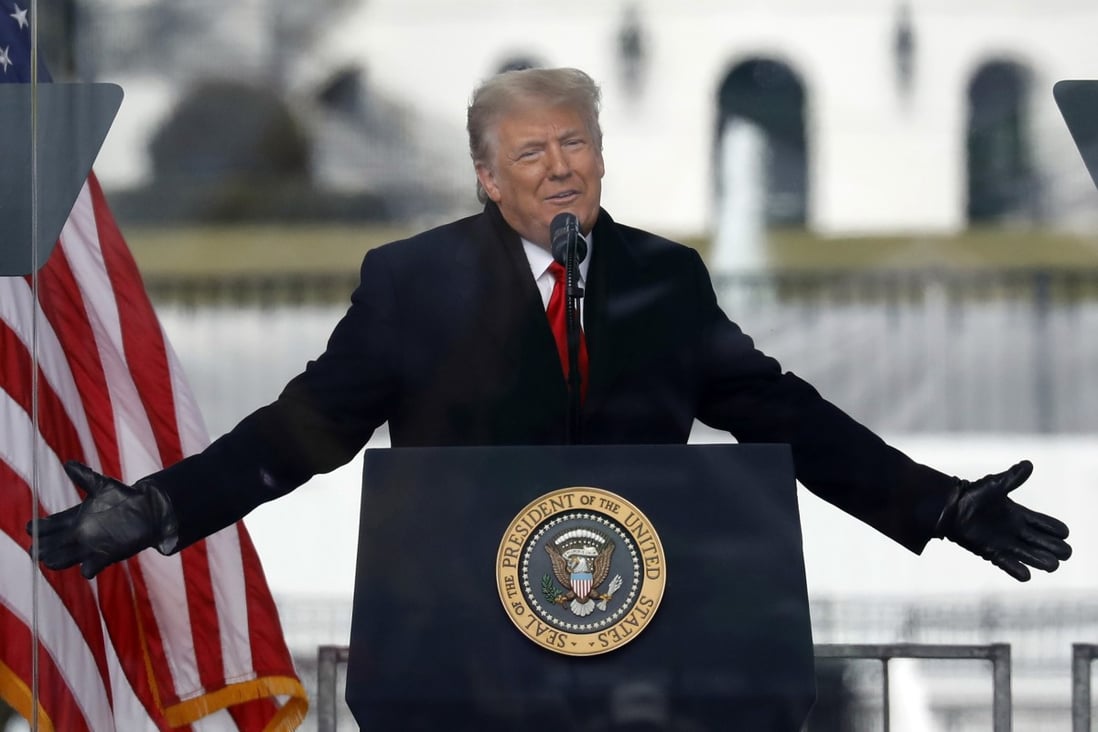 Conspiracy theories have found a footing among Trump supporters within the Chinese dissident community abroad. Photo: Gripas/Abaca Press/TNS
The tempestuous weeks following Joe Biden's election as US president gave rise to numerous fact-free conspiracy theories. Among them: a claim the CIA director was captured by US special forces and flown to Guantanamo Bay to face charges relating to election interference; weeks later, an accusation that left-wing activists conspired with police officers to orchestrate the deadly January 6 attack on the US Capitol.Of the many corners of Donald Trump's support base where this tsunami of misinformation has found a willing audience, one contingent has stood out: pro-democracy Chinese dissidents living overseas.
Amplified on Chinese language social media, in chat groups and video blogs, such claims have found a footing in a community ostensibly unified by a reverence for democratic norms, but which has seen numerous prominent members rally behind Trump's failed efforts to overturn his electoral defeat.
Other members of the dissident community are growing increasingly worried that misinformation and disinformation – and their peers' embrace of it – is fracturing the group in ways that will be near impossible to undo.
"The pro-democracy movement now has basically got to a point where it cannot recover," said Washington-based activist Yang Jianli, who believes that his peers' endorsement of Trump's unproven claims of election fraud is further marginalising a community that has rarely taken centre stage in US politics.
Prominent members of the dissident community who have thrown their weight behind Trump's claims of a stolen election include Chen Guangcheng, the legal activist who in 2012 escaped house arrest in China and subsequently left the country with the help of US diplomats.
To his 117,000 followers on Twitter, Chen has shared posts painting Trump supporters who stormed the Capitol as left-wing infiltrators, a bogus report that a Philadelphia mobster manufactured 300,000 false ballots for Biden in Pennsylvania, and conspiracy theories that voting information was stored on overseas servers.
"They don't care [that] supporting Trump is almost the same thing as destroying democracy here," said Yang, who partly attributes support for Trump within the dissident community to the former president's hardline approach to Beijing.
Yang, who founded the Washington-based Citizen Power Initiatives for China advocacy group after fleeing China in 2007, has in recent months found himself the subject of misinformation spread by his detractors, many doing so behind anonymous Twitter accounts.
Smears against Yang, 57, have centred on the fact his application for US citizenship was recently rejected over his prior membership of the Chinese Communist Party (CCP). "Many people are targeting me with rumours that the US is about to deport me," said Yang, who continues to hold permanent residency.
A November Tweet by him criticising then-secretary of state Mike Pompeo for refusing to acknowledge Biden's victory unleashed a torrent of similarly vitriolic comments – many in Chinese – accusing Yang of spreading "lies" on behalf of the Democrat party or acting as a CCP operative.
"How does opposition of Trump automatically mean supporting the CCP?" Yang said of his critics' rationale. "I don't understand how one can draw that equals sign."
Beyond Twitter, many point to YouTube as one of the most active digital arenas in which misinformation has spread among the Chinese diaspora's pro-Trump, anti-CCP contingent.
One vlogger is California-based Wu Jianmin, a self-described participant in China's pro-democracy movement of 1989, whose YouTube rants against perceived enemies of Trump regularly draw more than 50,000 views.
In a January 14 video, Wu said that it was members of Antifa – a leaderless anti-fascist movement – who were responsible for the storming of the Capitol, accusing without evidence that they coordinated with Capitol police to let crowds of Trump supporters into the complex.
"Even CNN, the most anti-Trump, left-wing outlet, reported yesterday that, according to their understanding, we can be sure that the Capitol attack was a premeditated, purposeful and planned event [carried out by] part of the Antifa organisation," Wu falsely told his viewers.
Contrary to a viral, crudely doctored screenshot of a CNN report, the outlet has not reported such claims. In fact, days before Wu's video, it had published its own fact-checking article debunking the very same conspiracy theory, citing US Federal Bureau of Investigation denials of the claim.
YouTube in December announced it would start removing content promoting the claim that Trump lost the election due to widespread voter fraud. Google, which owns YouTube, did not respond to questions about its approach to handling Chinese-language misinformation published to its platform.
It is not always clear whether YouTubers like Wu spread untrue claims knowingly – amounting to disinformation – or truly believe the information they are sharing is true.
Either way, said Rui Zhong, a programme associate at the Wilson Centre's Kissinger Institute on China and the United States, "there's a material incentive for people to keep saying what they're saying".
Wu's followers, for instance, can pay for subscriptions providing privileges like direct communication with him. Like many of his fellow anti-CCP, pro-Trump YouTubers, a PayPal link sits prominently in each video description.
Wu, whose videos have been viewed some 92 million times, declined to comment.
Some have pointed to language barriers, particularly the lack of Chinese language fact checking sites and reliable news outlets, as part of the reason for the untethered spread of misinformation through the dissident community.
"Many of them living in the United States have been marginalised because they don't have the language skills to understand what's going in the US," said Yang, adding that many instead rely solely on social media for their consumption of news.
One such avenue is WeChat, the Tencent-owned messaging app used widely within the Chinese diaspora.
Flow of misinformation within the app can be hard to track due to the fact that much of its transmission takes place within private chat groups. But even on public accounts, Chinese language posts by overseas-based, pro-Trump users containing misinformation about the election abound.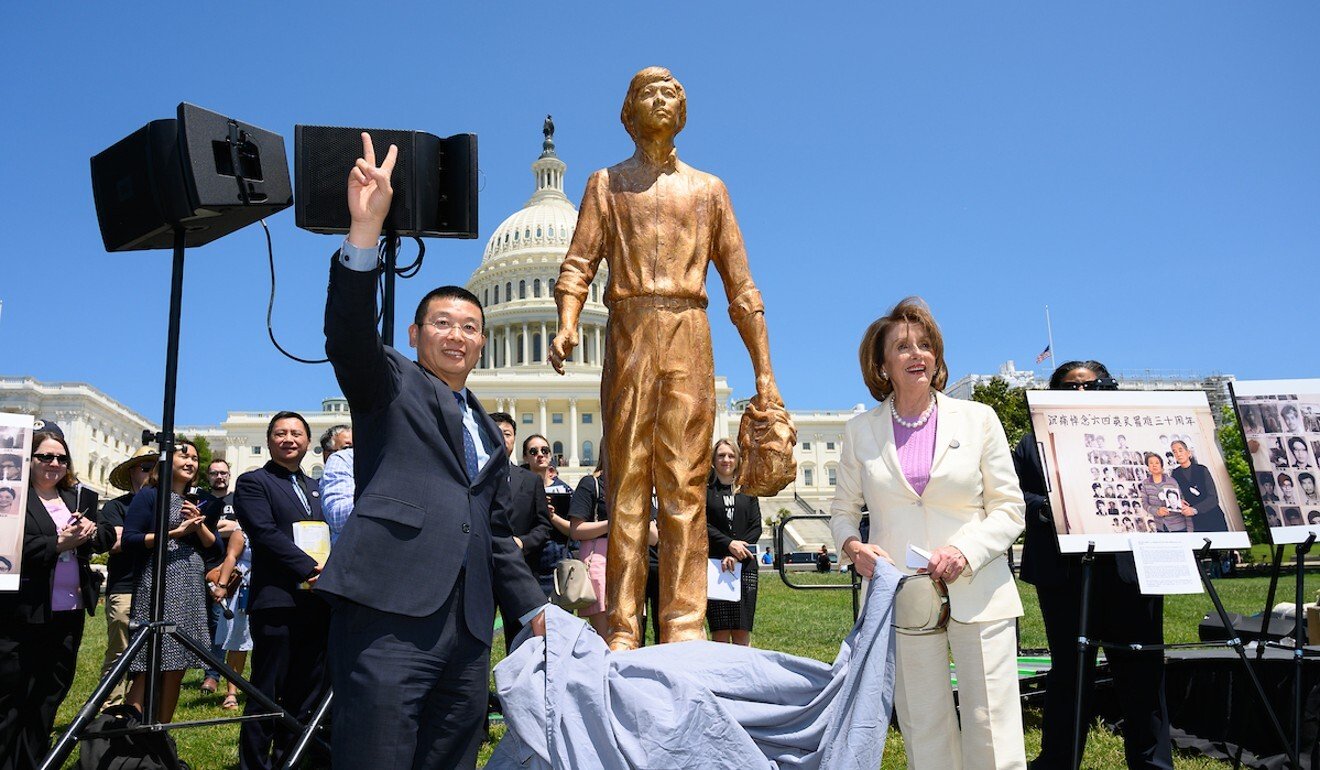 Pro-democracy activist Yang Jianli stands with House Speaker Nancy Pelosi at a ceremony to mark the 30th anniversary of the Tiananmen Square crackdown, in June 2019 in Washington. Photo: Handout
In one recent post applauding Trump for "persisting until the very end", a US-based blogger wrote that the outgoing president had left a note for Biden in the Oval Office saying: "Joe, you know I won." The false account of events appeared to take at face value a viral, doctored image of the letter, the true contents of which were never made public.
Such misinformation has prompted some efforts by other users to correct the record, including posts by Shanghai-based China Fact Check.
In a statement, a Tencent representative said that WeChat took addressing misinformation "seriously", and provided users "with an easy way to report content or behaviour, as well as remove content that violates our policies and/or local regulations in the markets where we operate".
Yet despite WeChat's documented capacity to monitor and remove user content, much of the pro-Trump misinformation remains on the platform untouched. That is in part because its content surveillance apparatus tends to prioritise issues more directly related to China's domestic political sensitivities, said Zhong.
"If somebody starts trashing Xi Jinping in a group chat, that group is getting sealed," said Zhong. "[But] they will not do a lot of due diligence in looking through groups to stop 2020 election [misinformation] that strictly."
Regardless of the means by which it is spread, pro-Trump misinformation has found a receptive audience within the dissident community in part thanks to the prevailing right-of-centre beliefs held by many of its members, said observers.
Evangelical Christian Chinese members of the community who came to the US in the 1990s onwards, for instance, might become "really passionate" about anti-abortion or LGBTQ issues in the country, said Zhong. China, she said, was but "one of a portfolio of policy issues that these people care about".
Teng Biao, a Jersey-based human rights activist and one of a few vocal Trump critics among prominent US-based dissidents, said pro-Trump misinformation suits what many dissidents "imagine the US to be, and suits their political beliefs".
From gun ownership, abortion, immigration to race issues, "the majority of Chinese dissidents have conservative opinions – the same kind of opinions as Trump", said Teng, 47, who worked as a human rights lawyer in China before fleeing in 2014.
Disagreement has always been a feature of the broad and leaderless coalition of pro-democracy activists overseas, said Teng, pointing in particular to debates that raged following the Tiananmen Square protests of 1989, about the respective merits of reformism versus revolution.
But this time the fractures feel far deeper and potentially long lasting, said Teng. Without basic respect for the truth, he said, "the dissident community will be marginalised more and more."
Amid the acrimony, Teng has been blocked on social media by a number of fellow activists and those he considered friends. And, like Yang, his criticism of Trump's efforts to overturn the election has triggered online attacks from supporters of the former president, accusing him of being a CCP operative masquerading as a human-rights activist.
He has faced the same smears offline, too, in the form of protesters picketing outside his Princeton Junction home almost every day for more than five weeks this winter.
Teng believes the demonstrators are followers of Guo Wengui, the exiled Chinese billionaire and Steve Bannon ally who has railed against Teng and other Chinese dissidents in online videos, calling on followers to "eliminate" them.
In Guo, Teng sees the reflection of another billionaire with legions of devout followers: Trump. And both, said Teng, are engaging in "a war on truth, a war on facts".